Charito Latin Jazz Funk Band
Charito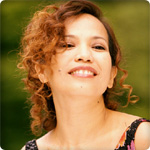 Charito is recognized as one of the most individual and creative jazz vocalists in today's Japan jazz circuit. She recently received Swing Journal's Gold Disc Award for her latest work "Non-Stop to Brazil" teaming up with world famous musician Ivan Lins, and has succeeded big time with Brazilian music. This same album was also given further recognition by the Swing Journal for Best Vocal Award 2004.
Acclaimed by critics, musicians and audiences as one of the most powerful and talented artists, she has definitely notched a place for herself in Japan's exclusive music world, and is now gaining note abroad. She has nine albums released with most recordings done in U.S. and Canada and the most recent in Brazil.
Her highly personal and expressive vocal style incorporates the breadth of her musical interests, from straight-ahead soulful ballads to hard-swinging grooves and improvisational adventures. Her approach is fresh and invigorating, paying tribute to the jazz tradition while interacting and exploring, always seeking to express herself in the moment.
In Ms. Nancy Wilson's words, "The first time I heard Charito, I physically and emotionally embraced her and thought myself BEAUTIFUL, that came from the heart and the soul. She has a warm way of presenting a song and she represents what a singer really is, a song stylist." This Girl (1990)
Since moving to Tokyo in 1984, she has established a reputation as one of Japan's leading interpreters of jazz standards and has gained the respect of fellow musicians. In a recording and performing career that spans more than two decades, Charito's musical interests have led her to a variety of related projects from commercials, television and radio shows, collaborations with top performance artists, and a fulfilling career as a teacher.
Her career began its highlights after her first album This Girl was launched in 1990 by Nippon Crown, being the first foreign artist under their label. This opened more doors for her followed by her next albums commercial successes.
More than anything, her experiences working with top notch musicians in the likes of Harry Whitaker, Alex Blake and Wallace Rooney on Swing My Way (1991/NIPPON CROWN), Maurice White on Shades of Love (1992/NIPPON CROWN), collaboration with Cornell Dupree, Buddy Williams, David Espinozza on Love of My Life (1993/NIPPON CROWN), added prestige to her work and has helped make her a figure in today's music world.
In projecting herself as an artist, she included in her albums two famous Philippine love songs partly to affirm her roots as a Filipino. She promotes a more positive image of her country and continuously helps bring about cultural awareness through music. For her efforts, she was honored with an award of commendation as Ambassador of Goodwill, in acknowledgment of her support to the promotional activities of the Philippine Department of Tourism in Japan.
This talented artist has already entranced the North American audience during a 1995 tour in Chicago, New York, Ottawa, Toronto and Montreal as vocalist for the Asian Jazz All Stars headed by Terumasa Hino, Japan's foremost jazz trumpet player. In 1996, they also toured Korea, Shanghai, Hong Kong, Singapore, Malaysia, Thailand and Taiwan, capped by a performance at the Mt. Fuji Jazz Festival held in Yokohama Japan.
Charito also performed for the first time before a 70,000 audience at the Montreal Jazz Festival in July 1996 (a first for a Philippine artist). This was followed by the release of her album Forevermore (1995/NIPPON CROWN) and later in Canada and the US under Lost Chart label making her mark as a world class act. In 1997, she was part of the Lost Chart Ensemble, a French Canadian group for a tour in Canada and for a second time at the Montreal Jazz Festival. During this period she did recordings for two new albums, A Time for Love (1998/LOST CHART) and To the Beat of Your Heart (1999/LOST CHART) for international market.
In 1998, she toured several major cities in China (Beijing, Shanghai, Dalian, Chengdu) as featured vocalist of the Lost Chart Ensemble for the Beijing Jazz Festival showcase, followed by shows in Tokyo, as part of the promotional tour.
In 1999, she performed at the Dewan Filharmonik Petronas in Kuala Lumpur with ASIANA, a group formed by Jeremy Monteiro composed of some of the best Asian musicians in both jazz and traditional instruments. They played an interesting blend of music mixing ethnic sounds with jazz harmony and improvisation.
In the same year, she performed and recorded as guest with the Tokyo Y's Club String Quartet Ensemble on an album called Tokyo Y'S (1999/NIPPON CROWN). This unique and beautiful collaboration has led to several significant concerts to date inspired Charito to take on new musical challenges. Moving from groove to groove she continuously take on risks and discovers something new always supported by friends who support her every turn.
The year 2000 was highlighted by several performances outside Japan. She was vocalist for World Jazz All Stars, a group of renowned jazz musicians formed by Terumasa Hino for inaugural concerts and workshop series held at the newly opened LG Arts Center in Seoul, Korea.
In the same year, she helped form together with Sylvain Gagnon and Canada's premiere jazz artists, an international project called "Jazz From Around The World". This was a series of concerts held in different cities in Japan that included a special performance at the Canadian Embassy Theater in Tokyo.
2001 was a turning point for Charito when her attention was diverted towards charity work. She formed Because We Care foundation using music as the key channel to take meaningful actions and effective programs to increase awareness among concerned citizens by helping those in need, especially the children. Charito has since then held annual concerts and charity shows where proceeds have gone to various centers and organizations working for children in the Japan and the Philippines.
2002 brought on more international collaboration at the Jazz Club in Hongkong, performances with Lonnie Plaxico and his New York band, gigs with Brazilian Paulo Gomez and friends, highlighted with a special guest performance with the world renowned Clayton-Hamilton Jazz Orchestra.
In 2003, They Say It's Wonderful (2003/CT MUSIC) was released , which she co-produced with Lonnie Plaxico in New York featuring jazz greats Mulgrew Miller, Lewis Nash and Jeremy Pelt. In this recording, Charito once again ventured into a new challenge using unique arranging ideas she helped conceive and then written by Manabu Ohishi, the music director in her band. This year was also highlighted with performances at the Kuchan Jazz Festival, Asahi Jazz Festival and NHK session 505.
2004 marked a new turning point in Charito's career after the release of Non-Stop To Brazil "Charito meets Ivan Lins" (2004/CT MUSIC) which was recorded in Sao Paulo, Brazil. Thick, rich, sensuous - jazz-pop vocal arrangements by Ivan and Charito makes this Afro Latin rhythm album very special. Her journey to Brazilian music is now gaining wide popularity and thus awarded the Swing Journal Gold Disc.
In the same year year she was a special guest performer at the Krakow Jazz festival in Poland representing Japan and was also invited as faculty for the first time at the Chodziez International Jazz Workshop teaching German and Polish students. Her work earned her much credit and has certainly opened a lot of doors for in Europe, she has been officially invited to do more concerts and to be part of the workshop next year.
Charito is not one to rest on her laurels.In 2005, Charito continues to perfect her craft and wow audiences in Japan through live performances at jazz clubs, hotels and other venues.